Pottery with Veterans Community Lanarkshire
Art Space G41 has been working closely with UK Veterans Charities based in Scotland. Veterans Community Lanarkshire to offer pottery making workshops. These sessions have continued over several weeks & have created a strong social bond amongst the participants. It's well known that Veterans of the armed forces often suffer from Mental Health Problems including Anxiety, PTSD & Depression. The tactile nature of pottery can be relaxing whether handbuilding or wheel-throwing, the activity itself is highly engaging & rewarding. Focusing on creating functional items and decorative art has been shown to reduce stress & anxiety levels. You can see creative sparks flying below, these pictures cover various forms of pottery making during activities with Veterans Community Lanarkshire 2022-2023
Wheel Throwing
Billy, Harry & Marina are getting to grips with the potters wheel and enjoying some playful moments!
Boat Making
These boats were made during November & December 2022 during sessions led by Sarah Bland. In these photos you can see the journey of the boats from being first handmade in clay before they are returned the following week bisque-fired and ready to be glazed by the veterans.
Making Ceramic Poppies for Rememberance Day
Another project that we worked on as a group is hand-building poppies in stoneware clay
in honour of the armed forces members who have died in the line of duty
. Below you can see the process that begins with rolling out the clay and sculpting the poppies. Once finished, these pieces were then taken to our studio and bisque fired ready for the following weeks session. The folk at Veterans Community Lanarkshire glazed the poppies in a low-fire ceramic glaze the following week. As per the last photo, one more kiln firing and they became finished pieces of ceramic art.
With thanks to Veterans Community Lanarkshire.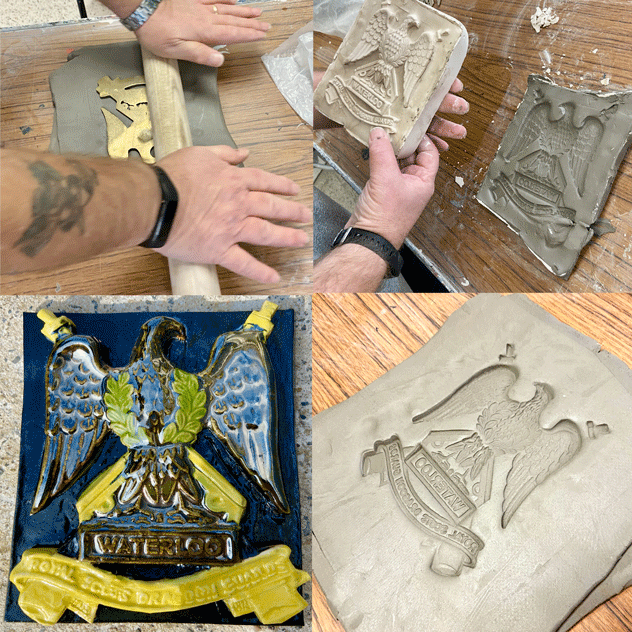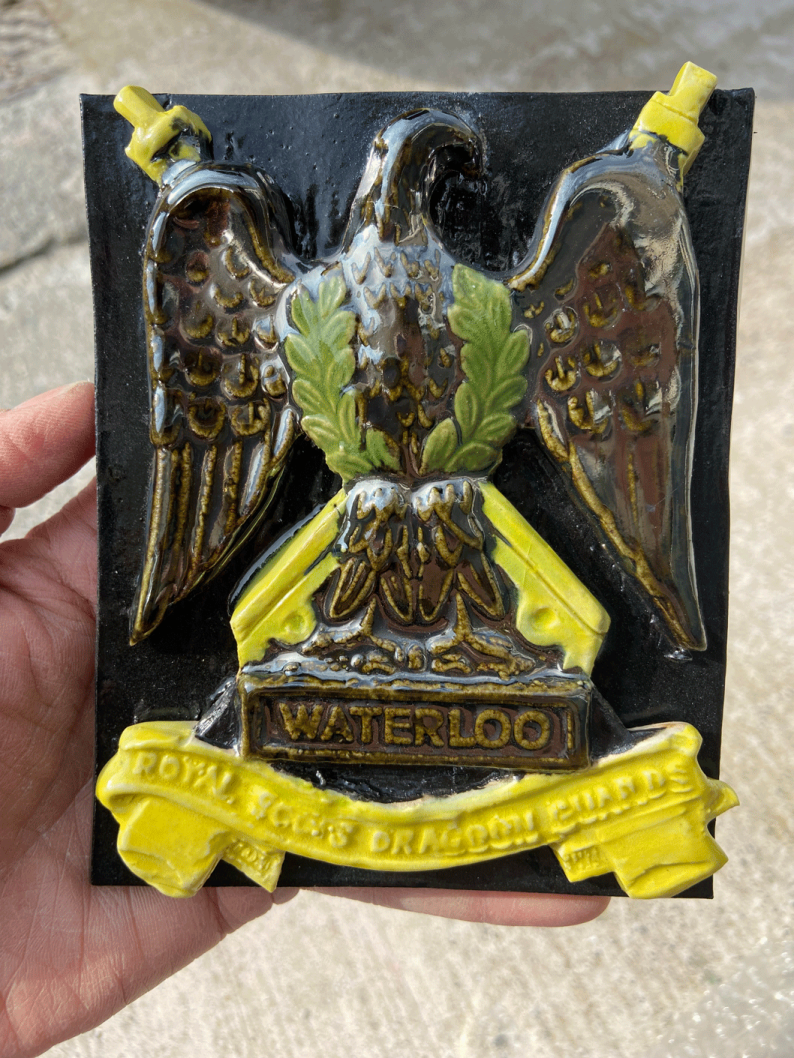 Royal Scots Dragoon Guards Badge
Billy rolled out some stoneware clay and created a cast mould to create this Royal Scots Dragoon Guard crest. Billy had put this in the kiln for a bisque firing, Art Space's kiln reaches temperatures over 1000 degrees.
Once bisqued, Billy then painted the Dragoon Guard Badge piece using pottery glazes before putting the piece back into the kiln for another firing. Once cooled down, the resulting piece came out very well, the metallic tones of the background colours with the yellow and greens came out wondferully. We love the unpredictable nature of glaze firings, you never quite know how something is going to turn out or how the colours are going to mix together.
Day Trip to the Burrell Collection
Once bisqued, We went on a day trip to the Burrell Collection with Veterans Community Lanarkshire. As well as being a fun day out, it turned out to be a productive one too. Several pieces were handbuilt in clay after looking and taking inspiration from the exhibits. Glazed and out of the kiln, here you can see the different stages of the creative process including pictures from around the exhibition.

The experience was so positive that it got us thinking how lucky we are to have this large, extraordinary collection of artwork that's free to view. Thoroughly recommend visiting the Burrell Collection if you haven't got a chance to visit already.
Veterans Family Day
Billy brought his daughter Alana and her son Daniel to the studio for a special family day, Megan demonstrated how to work with clay and helped them create Eeyore and Lilo sculptures in ceramics. Marina was also present and was painting some bunting using our speedball glazes whilst Billy was busy working on creating an imprinted ornament using a silhouette image of members of the armed forces paying their respects to the fallen. It was a nice convivial atmosphere in the studio and as always, a pleasure to watch everyone work independently on their own projects. Smiles all round and we got the impression that they could have easily continued to work for longer.