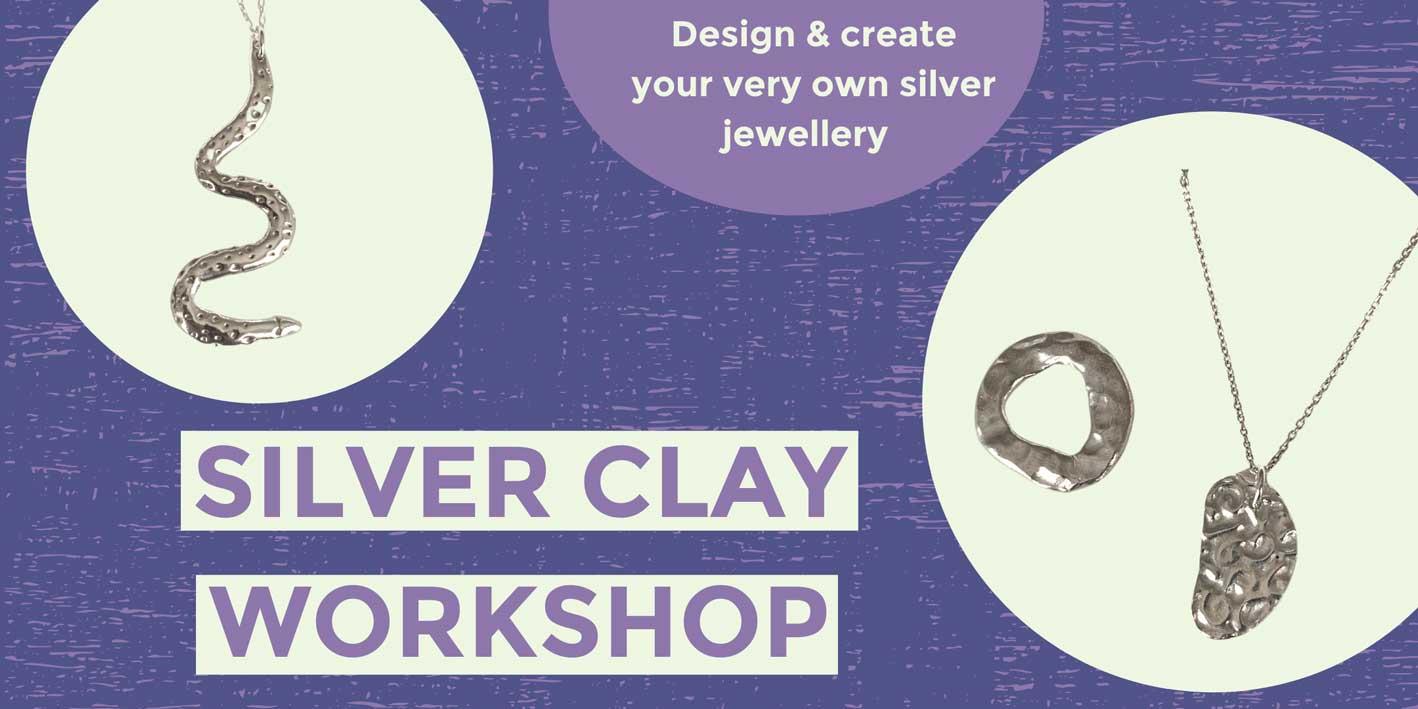 Book tickets now by clicking on the banner above
Silver Clay Workshop
Dates:
One all day workshop:
Saturday June 4th (12pm-5pm)
Sunday June 5th (12pm-5pm)
Price:
£75 / £64 Concession (Students, unemployed, OAP)
Led by:
Natasha Visser
@natashavisserdesigns
What to expect:
Welcome to the wonderful medium of Silver Clay - a material with the consistency of clay and the look of metal! Made up of tiny particles of metal suspended in an organic binder, Silver Clay is a material uniquely suited for sculptural jewellery. This workshop with goldsmith Natasha Visser will introduce you to the processes of sculpting, firing and finishing Silver Clay, and to some basic jewellery-making techniques.
With the X grams of Silver Clay provided, you will make a pair of earrings and a pendant, or up to five items as you choose. With Natasha's guidance, you will shape, texture and refine your pieces, dry them and fire them in the kiln; once fired, you can polish and finish them for a variety of effects.
You will be provided with a sterling silver Trace chain, earring hooks and jump rings for putting your finished pieces together. By the end of the class you will have made your own jewellery start to finish!
This class is for anyone, beginner level onwards.
What to bring:
- A sketchbook for your designs
- Glasses if you need because we will be working with small items
- Any items to press into the clay for texture, or to make a mould of - e.g. small shells or natural elements. There will be cutters, moulds and stamps available.
You will be provided with:
X grams of Silver Art clay
One sterling silver Trace chain
One set of sterling silver ear hooks
Jump rings for attachments
Natasha Visser is a local goldsmith from the Southside of Glasgow. She will guide you through the process.
Please note that in order to cover our costs we need to sell at least 4 tickets; if fewer than 4 tickets sell unfortunately we will have to cancel this event.
Accessibility:
Art Space G41 does not have a wheelchair accessible bathroom. The Shawlands Arcade walkway is accessible via ramp and the front door of Art Space can be made accessible using a removable wheelchair ramp. We try to keep the format of our classes accessible for everyone.